If you've been engaged in our series on trust behaviors, you are now familiar with the results of practicing them.  Like all of us, you might have had days where you could Confront Reality and Talk Straight regarding blockers that stand in the way of real progress.  Possibly you've worked with a team to Clarify Expectations and Create Transparency so that your team could Deliver Results.   
Can you sense that you are becoming a more trusted partner? Are you being loved and admired by everyone around you (ok, maybe that's a bit too strong)?  If so, congratulations!   
On the other hand, you may have experienced that too much of a good thing has caused an adverse effect. Creating too much transparency and revealing too much information may lead to a partial loss of trust. Talking straight can be perceived as harsh criticism and can lead to dissension and discord. You may need to Right Wrongs and keep practicing these trust behaviors. 
So, what's next in your trust journey? According to Covey, it's time to turn a noun into a verb with the trust behavior – Extend Trust.   
You have the tools to be a mentor to others now, turning from a Trusted Person to a Trusted Leader. It is difficult for many people to trust others, but it's worth the journey to Extend Trust as long as you are thoughtful, using both your head and your heart. There are so many possibilities if you can help create a larger circle of trusted partners. This is where you can enhance your own life and the lives of others. This may sound dramatic, but it can truly be life-changing. 
As you observe those around you, do you notice team members who are achieving, growing, and are valued by the team, but they may have not been given the room to make the leap into the spotlight as trusted people to stakeholders or managers?  This could be a junior team member who has been successful but only under the guidance of senior team members or a team member whose confidence level has held them back from achieving their personal goals.   
As a Trusted Person transitioning to a Trusted Leader, you can use your skills to help provide opportunity, support, and feedback for this 'candidate' and take them to the next level.  This is where the work begins and where the word trust becomes a verb. 
Opportunity: start with a team discussion. 
THINK BIG! Find an upcoming event, possibly a new initiative that the team will be executing. Something like a presentation to leadership or another sizable, notable project that will need a Single Point of Contact works great. Let the team decide on the right situation. 
Or, think small. Not everyone wants to feel like they are center stage.  Be respectful of the candidate's desire to show their skills.  It could be that the first attempt at extending trust is a simple pair programming session with the candidate taking accountability for the outcome and presenting findings to the team. 
Support: determine the what, who, and when.
Lead the team to determine who is needed, what skills should be included, and when support should be available.  The outcome of extendingtrust is that you empower another person to becometrusted as well.  It can be a milestone in their personal and professional growth, so they should feel that rain or shine, success or struggle, they have support from their team.  If asked to be on call to help a fellow teammate, be there!  Some day you may be the one asking for assistance.
Feedback: be kind but be honest. 
Look for high points and give accolades. Share in moments that may not have gone off without a hitch and be empathetic. Find learning moments and praise for attempts made with good intent (one of the Cores of Trust).  If you have an awesome experience, try to keep the feeling going. If it was not the best of days, regroup, learn from the experience, and encourage another go at it. There is so much to learn from constructive feedback.
This process isn't just for professional teams.  Many people in our lives could benefit from the extension of trust.  Think about people in your community that might need a trusted person to help them overcome a lack of confidence or lack of available resources.  This could apply to a PTA, School Board, Church group, or your favorite volunteer organization. Be that person who takes on the trusted leadership role in your community.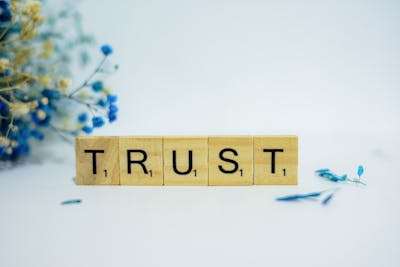 As people, we all have learned at one time or another that trust is difficult to earn and easy to break, but building trusting relationships can change everything. To learn more about trust in the workplace, reach out to us.
If you would like to join our team that values trust (it's the first word you see on our website), come join our team!