Creating and Refining the Product Backlog
---
Abstract
The Product Backlog is an essential artifact on agile projects, and very little guidance can be found on how to create a useful one.  How do you get started?  What's needed to create one?  What should it contain? What shouldn't it contain?  What's the difference between a user story and a PBI?  How are metrics used with it?  How and when do you refine it?   All these questions and more will be answered in this session.
Bios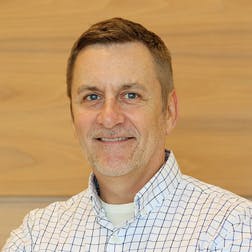 Ken Howard
Ken has over three decades of expertise in technology, management/organizational consulting, education, globally distributed project management, custom software development, and P&L management. His strongest and most valuable attribute is maximizing productivity and business value with technology teams. His varied experience and flexibility make him well suited to serve in versatile roles. Ken has earned a reputation as a motivational organizational leader as well as thought leader in the technology community.
Ken has been with Improving since 2007.
Publications:
The Covert Agilist, IEEE Computer Society, 2009
Numerous magazine articles and interviews
Don't miss your chance, register now
More Learning Events
Join us wherever you are in the world as we share some knowledge – hosted by our Improvers.
Fri, October 30
12:00 PM CDT