Build once, deploy anywhere for Angular front-end in Azure
---
Abstract
A front-end developer's story about turning limited knowledge of "the cloud" into an Angular project capable of a producing single build artifact deployable to any environment.
Bios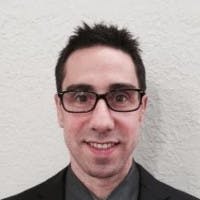 Denny Kruep
Applying modern front-end development technologies and practices to build products that bring exciting new capabilities to users with an emphasis on improving and simplifying their user experience.
Always studying best practices in code construction and architecture to realize the cost and time saving benefits achieved after shipping such software.
I am working towards a position as a software architect where I can collaborate with others as passionate about cutting edge technologies like Angular, ReactiveX, GraphQL, and Docker to bring to life the products and services of visionaries in business..
Don't miss your chance, register now
More Learning Events
Join us wherever you are in the world as we share some knowledge – hosted by our Improvers.
Fri, December 09
12:00 PM CST
Fri, December 16
12:00 PM CST