In promotion for the upcoming movie, Wish Dragon, Netflix asked Twitter followers "If you could wish for anything, what would it be?" Improver Tim Rayburn, Vice President of Consulting in Dallas, answered. Little did he know, his wish was about to be granted. Read on to hear what his wish was and how he feels about it.
How did you hear about the Wish Dragon movie and their competition to grant a wish?
"I'm a fan of the actor Jimmy Wong, who plays the character Din in Wish Dragon.  I've followed him on Twitter for some time now @jfwong and he retweeted the original Netflix Family tweet about granting wishes.  When I saw it I looked at some of the other responses and really was left feeling like "do these folks know what a WISH is?"  I mean, wishing for a Netflix subscription?  Come on, a magical Dragon wants to grant you your heart's desire and you think … free Netflix?  So I knew I wanted to ask for something big, and something which would have an impact."
What was the wish you made? And why did you choose that wish?
"I live a blessed life and really need nothing personally, but there are definitely causes which I believe in.  Obviously at Improving one of our values is Involvement, which is embodied in how we involve ourselves in our communities.  I've championed our involvement in programs like our Accelerator programs which have Improving and its partners assisting people to achieve success in the Information Technology fields.  That said I've also looked hard at the realities of our challenges in the United States with STEM employment and realize that a huge part of that is sourced in the primary and middle school years, which means the solutions will be long in the coming.  All of this led me to make a wish which focused on funding efforts in STEM education to knock down the economic, and social, barriers which stop people from achieving success in these lucrative fields."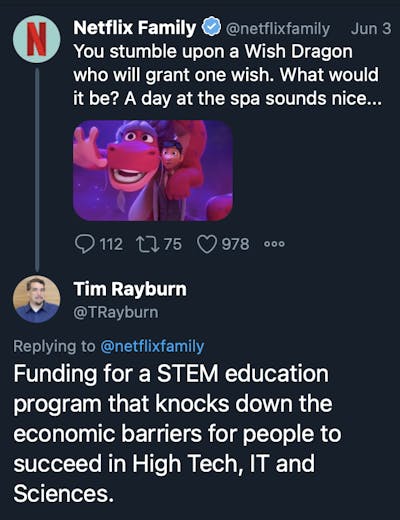 Is this wish a defining ambition of yours?
"This is definitely a defining ambition for me personally. I recognize that while my generation which rushed into these fields of IT as they were created (I graduated high school in 1991) often as in my case foregoing the traditional college degree for such professional pursuits, subsequent generations have been pushed into a belief that only traditional educational paths are entryways to these careers.  I also see alignment between this wish and our corporate ambition at Improving to change the perception of the IT profession.  I believe that solving the issues of diversity present in our industry, opening our organizations, contributors and leadership to a more diverse group of voices truly is a fundamental step in changing the perception of our profession as a whole.  A fundamental truth of computing is that given the same input, most systems including human systems, will produce the same output.  If our profession doesn't change the input it receives in the form of a more diverse workforce, it will be very difficult to change the output including how we are perceived by our key stakeholders including the businesses we work in and the society we live in."