State of Agility 
The movement of business agility has come a long way from its roots in the innovation and R&D space in the few tumultuous decades of the 20th century. Over the past 80 years the values and principals driving business agility have continued to evolve, change, and grow to meet the needs of business. We have seen the evolution of lean manufacturing. Lean software development and lean portfolio management are commonly seen today. The agile software development movement, spearheaded by Scrum, has changed a significant portion of software teams writing software around the world. We are the front of another wave of change in Agility. In the past 10 years we have seen a significant growth in the application of processes that are based on the Agile values and principals outside of IT. While some of the "agile frameworks" are designed with software development in mind, there are several ways that these can be applied to a wide variety of complex knowledge work.  
Improving has been leading and guiding clients through agile and digital transformations for over 20 years. The lessons learned in transforming airlines, oil and gas companies, financial institutions, manufacturing, and ecommerce have been captured here. Being involved in many transformations allows us to have a wide-angle lens for when well-worn patterns for success and failure appear and are independent of a particular industry. We feel that to share a summary of those ways will help others along this journey to Business Agility. In each key learning we look at, we will discuss the benefits of implementing and the risks if not implemented. One of the major reasons that we are often asked to lead and shape these transformations is our reputation of thought leadership in the community through publishing, public speaking, and participation in the leading organizations like Scrum.org and ProKanban. We continue to invest in those areas and will include links to further information below.  
A successful adoption is a huge topic, and we want to ensure that each area gets the time and attention that it needs to communicate the key learnings there. To that end, we will be delivering these keys in a series of articles exploring a few lessons learned at a time. Below is a full list of the series, and we will add links to that summary as the articles are published. We will also announce each part as it goes live. 
Business Agility – Getting Started <- You are here 
Business Agility – What was step 2 again? 
Business Agility – Measuring and investing in growth 
Business Agility – Avoiding Chaos: Standards, Operations, and Guidance  ( part 2 here)
Business Agility – Keeping focus on the right things 
Business Agility – Been there, Done that… 
Key 1: First things first 
There is some common, and yet sage, advice that comes to mind here. "Always put first things first." In the agile space that means that we should start with the agile manifesto, the values, the principles. We have included them below because we feel they are important in the frame of reference for the rest of the key learnings.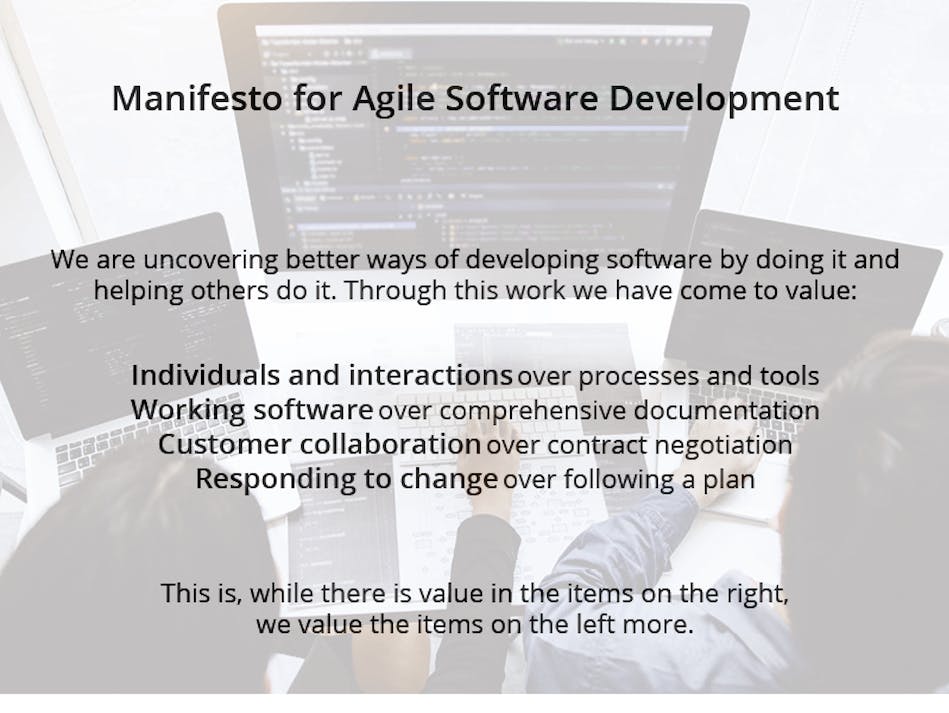 Agile Principles
Our highest priority is to satisfy the customer through early and continuous delivery of valuable software. 
Welcome changing requirements, even late in development. Agile processes harness change for the customer's competitive advantage. 
Deliver working software frequently, from a couple of weeks to a couple of months, with a preference to the shorter timescale. 
Businesspeople and developers must work together daily throughout the project. 
Build projects around motivated individuals. Give them the environment and support they need and trust them to get the job done. 
The most efficient and effective method of conveying information to and within a development team is face-to-face conversation. 
Working software is the primary measure of progress. 
Agile processes promote sustainable development. The sponsors, developers, and users should be able to maintain a constant pace indefinitely. 
Continuous attention to technical excellence and good design enhances agility. 
Simplicity--the art of maximizing the amount of work not done--is essential. 
The best architectures, requirements, and designs emerge from self-organizing teams. 
At regular intervals, the team reflects on how to become more effective, then tunes and adjusts its behavior accordingly. 
They will guide behavior when adhered to and become a conversational tool for conflict resolution. When looking at new challenges, improvements, or adjustments, these are the frames that guide the teams to commonly aligned decisions without overbearing governance. It seems so simple, but similar to most great achievements in life simple does not mean easy. Organizations often stumble at this in their agile transformation when it starts to scale beyond a few champions and teams. This can come from others seeing the success of agile teams and wanting more to feel some of that success, so they start to imitate the behaviors and the events. This can also come from a top down mandate to move in a more agile direction, so many engage in the motions required politically. The original champions probably had years of organic growth influencing their choices and had less pressure to adopt quickly. The second wave has a tougher time, as they are testing, evaluating, and (hopefully) adopting these values in a much shorter time with less ability to descent. Being skeptical or resistant is human and probably the best to address via structure of the adoption rather than a reaction or intervention model. Accepting that a change in mindset and world view is required gives us all the ability to meet with grace the objections. 
The risk for not putting values first is that the decision-making system has no consistent base to build from and will default back to the existing system or personal opinions of each person. This creates an environment where the supporting skills (discipline, courage, autonomy, adaptation) that agility relies on are not strong enough to survive the inevitable struggles of complex work. There will be trade-offs, times to differ, and hard problems around how to measure success. Without the stable foundation of values, it is easy to stamp the agile terminology onto the same bad habits that we are trying to change. Sadly, this mistake in transformation is so common that it has a significant amount of writing about it, and several names. Some of them are funny, others judgmental, we just refer to it as Empty [Scrum|Kanban|Agile]. When the agility movement says Individuals and Interactions over processes and tools, it is commonly mistaken in two ways. The first, and most common, is that processes and tools don't matter or have no value. You have probably heard it in something like "We can accomplish anything with a wall and sticky notes."  Tools and process do have value, a lot of value. Unfortunately, this gives rise to the second misconception. So many conversations around agility assume if you are looking at processes or tools, you have the values already covered. Each tools vendor can get you setup, installed, and configured. Each process certification company can help get quality instruction and education. Those are straightforward to sell and implement. Changing the hearts and minds of the people in the adoption is significantly harder, and so they get less time in sales materials. 
How to get the most from this key is like how we have started this article series. Have you noticed that we have not talked about framework training, coaching plans, or which scaling method you should use? It is because those are later steps but will be limited by how effectively we can engrain the values and principles that we would like teams to operate with. If you are leading, this is not something to have your teams do to solve problems. It is a set of values and guidance that, if you use and internalize them, can significantly decrease waste, speed up innovation, contribute to new revenue growth, and increase internal and external satisfaction with your organization. We will dig into how to implement to this, and how to measure these returns.  
If you are currently working agile, just starting the journey, or evaluating a move to agile ways of working, we would encourage you to read through this series. If you have specific questions, please reach out and we will strive to help with a no cost consultation.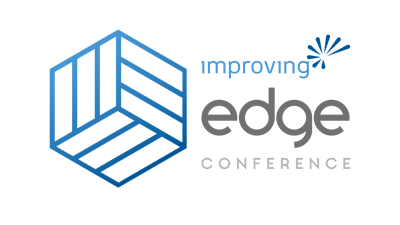 If you are looking to connect on a broader set of topics and connect with other community members and leaders, as well as hearing from industry leading experts, take a look at the Improving Edge Conference and register for a great set of thought leaders in many areas.