Improving is home to some of the best technology talent in the world. While we want to keep and grow that talent within our organization, sometimes we get the extraordinary opportunity to help people go from Improvers to skilled employees at other companies. 
How does this happen? Through our accelerators and boot camps! In order to fully understand how they work, we will walk you through our latest twelve-week course called Dynamics CE Accelerator. This one-of-a-kind course shapes programmers into niche experts who can dominate and succeed within major companies throughout the tech industry. 
Why it's unique: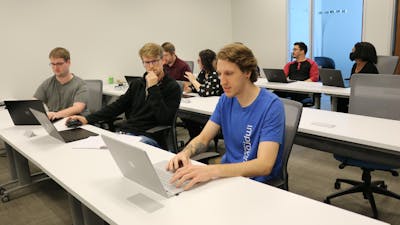 Well for starters, participants get paid to go through the program! Most technology-related boot camps eat through the attendees' savings as they pour money into the training. But in Dynamics CE Accelerator, eleven people were interviewed to become full-time Improvers for six months to a year. So, not only will they get the education of a lifetime, but they'll also have income. 
Participants also have a job already secured after the class! The whole point of the course is to filter the students into our client's organization. The client gets specified experts on their team, students get amazing work opportunities, and we work with the client to fund the program successfully. It's truly a win for everyone!  
How it was created: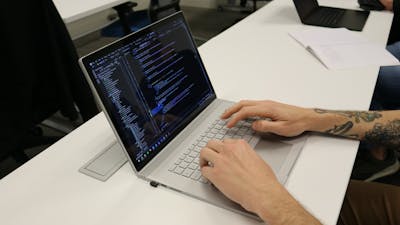 A well-known business in the tech world came to us with a dilemma. Not only did they need programmers who were experts in Dynamics, PowerPlatform, and.NET, but they wanted a hand in the training process. So, our experts worked with the client to create the twelve-week, full-time program. 
How participants were chosen:
Obviously, this was a coveted course, which meant we needed to find the perfect people for it. Our client wanted current programmers with one to three years of experience. However only one out of the eleven picked students knew what Dynamics was before they were trained by us, so knowledge of the class's focus is not what we were looking for.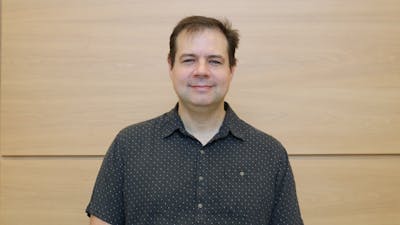 According to the course's instructor, Principal Consultant Eric Sowell, Improving's experts have a clever (and secret) way of finding the right talent. While we won't tell you how the interview process went, we will share the character traits they're trying to find.  
Critical thinkers 
Team players 
Problem solvers 
Self-motivators